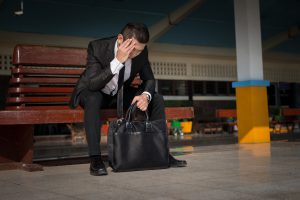 A Double Dip denotes a recession in which the business declines after a quarter or two growths and comes back to growth for a short span and again goes into a declining state. 
When a business suffers a double-dip recession, the pressure to perform better increases more than ever. New challenges arrive and the stress level is increased for entrepreneurs as well as employees. Managing huge workload and developing effective strategies to survive through a double dip recession is highly stressful for entrepreneurs facing this. The employees related to the business facing double-dip challenges are often overwhelmed and stressed. Even if the economy is heading down, many business owners/entrepreneurs work on strategies to keep their businesses thriving.
Double Dip Survival guide
During a period of a double-dip, many companies do not survive in the second phase of recession. So, here comes a time for entrepreneurs to make a double-dip survival plan. Entrepreneurs can adopt many policies, techniques, and strategies to survive through a double-dip period and lead their companies towards a growing period.


1.  Reassess pricing of products and services:
It is not considered the best option to cut prices all at once. First, consider the negative effects of cutting the price of your business products/services. Also, consider promotional offers such as a bonus product or service at the same price or placing business products on a limited sale to attract more customers and users of your business.

2.  Keep searching for more opportunities
: During a period of recession, entrepreneurs should keep looking out for other companies which are losing market share. As the other company loses its market share for the same product or services, try gaining your market share by moving into new markets. Try to win the customers of another company.
3.  Review products and what changes can be made to them: In a period of recession or during double-dip survival, your products and services must be reviewed and certain changes and upgrades can be made to attract more customers. For example, try introducing more flavors in processed eatables. Try marketing them in bundles at a reduced introductory price like promotions.


4.  Make agreements:
Make agreements with other businesses/professionals. For example: Refer clients to each other and give commission as agreed upon by both parties.

5.  Refresh the packaging:
Entrepreneurs can take a look at old packaging of their products and see if they are still appealing or not as compared to their competitors in the market. Customers often love to buy the same product with new attractive packaging. This is a good technique to promote the same product with a better packaging point of view.
6.  Raise up the marketing: Try finding cheaper methods of marketing to reach to your customers. Social media is a good option to reach your customers, getting their feedback and sorting out the queries related to your products or services through social media sites. Make accounts on social media websites and promote your reconsidered products there as well. This might attract new customers and previous customers may come back to your product again.


7.  Entrepreneurs must pay attention to loans, as huge amounts of the sales earnings might have been going to pay back interest. Cut down the inventory if possible and to return the loans as much as possible.


8.  Keep a check and balance on bookkeeping.
Constantly take a look at your budget and bookkeeping efforts.  Observe where you can cut back, where you are spending too much, and what changes can be made so that your company survives the recession. 
Entrepreneurs must put all of their efforts and hard work into the business, especially during a double-dip survival period, but must never compromise on their physical and mental health. Short breaks and weekly days off must be taken to refresh and come back to work with an eager attitude.
Conclusion
A double-dip survival period is a hard time for entrepreneurs. Many businesses do not survive in the second phase of recession if good practices and techniques are not adopted. Entrepreneurs must remain vigilant and cope with stress well throughout the recession periods. Entrepreneurs should try different strategies to survive and thrive their business again. Reviewing products and services, promotional offers, managing inventory, building good terms with retailers and wholesalers and searching for more opportunities are key to double-dip survival for entrepreneurs.
https://www.completecontroller.com/wp-content/uploads/cclogo_main-long-300x63.png
0
0
Complete Controller
https://www.completecontroller.com/wp-content/uploads/cclogo_main-long-300x63.png
Complete Controller
2020-04-19 14:49:17
2020-04-20 06:46:13
Double-dip Recession Survival Guide for Entrepreneurs