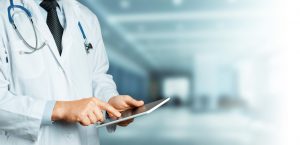 Patients have recently been faced with highly expensive medical bills because of the rise in high deductible plans. In numerous cases, these patients are not prepared to pay them. For medical practices, this means that discovering new ways to improve medical billing collections ought to be the top priority for the year 2018, especially patient payments.
When patients do not pay the required amount, it ultimately puts the revenue cycle of your practice at risk. The patients' co-pays make up approximately 20% of the entire revenue of a doctor. However, according to a recent study conducted in 2010 by the Medical Group Management Association, most doctors only collect 60% of their patients' co-pays.
Once doctors realize that their medical billing has taken a hit, they begin to completely understand that they cannot afford any more revenue loss through the ICD-10 coding errors and the Meaningful Use requirements. This rings especially true for those practices which have a very small budget.
The worst part is that this problem is not going anywhere, anytime soon. A large number of patients will either have heftier co-pays for each office visit or they will be forced to spend more out of their pocket due to their choice of the policies, which are accompanied with higher deductibles. The middle class is increasingly becoming burdened by the expenses of healthcare and numerous professionals struggle in order to cover what the employers' health plan will not.  The bottom line is that it is now time that we pay great importance to collecting patient co-pays.

7 Ways to Improve your Practice's Medical Billing Collections in 2018


Train Your Staff To Collect The Money
The collections begin with your office's front desk. Therefore, it is important to have your staff trained to collect the cash, even before the patient gets to see you. Ensure that there are numerous signs placed around the waiting room which clearly state the payment policy. When any member of the staff calls the patient to confirm the appointment, they should also mention the balance amount that the patient might be carrying. Furthermore, the payment options available should be discussed. Your staff should make it clear to patients that they are expected to pay the balance before their next appointment or when they arrive at the office for their next appointment.


Be Transparent About the Prices
One of the major reasons that service providers have a difficult time when it comes to medical bill collections is because the patients are blind sighted by the costs and have also not budgeted for this expense. It is very important that you are always transparent about the prices and the procedure costs so they have a clear idea whether or not they could afford the treatment. Furthermore, check the patient's coverage before the appointment is confirmed.


Go For Potent Medical Billing Software
If you have yet to purchase a powerful medical billing software, it is advised that you do so today. Half of the uphill battles you are fighting will be solved by this simple, yet amazing, software. Medical billing software can easily help to streamline the entire funds collecting process. This can also help you keep track of all past bills.


Provide Numerous Payment Options
Undoubtedly, there are a lot of patients who would like to pay for their services, however, they do not have the financial means to do so. When you offer various payment options to patients who have huge outstanding bills, they can slowly pay the bills in installments.  It is beneficial to give your patients options.  


Make The Payment Method Easy
If you want most of your patients to pay the bills, it is important that you make the process easy. For example, if you let patients pay using a debit or credit card, the funding you receive is going to increase, as most people prefer paying using their cards. This is a win/win situation, where you get your fee, and the patients have no outstanding bills in their accounts.


Incentives for the Billing Staff
Understand that it is not fun for your staff to collect past due payments every day by calling up patients. It can become very frustrating and tiring. Some of your staff members might also eventually become demotivated as well. Offering incentives and keeping your staff motivated is very important in order to make sure they are completely satisfied with the job they have.


Track and Manage the Results
You will never be able to improve billing conditions if you do not track and manage the results. It is important to make this your habit and priority to review the billing condition each month during the financial meeting in order to see the methods and processes which are working out for you and ones which are not.





About Complete Controller® – America's Bookkeeping Experts Complete Controller is the Nation's Leader in virtual accounting, providing services to businesses and households alike. Utilizing Complete Controller's technology, clients gain access to a cloud-hosted desktop where their entire team and tax accountant may access the QuickBooks file and critical financial documents in an efficient and secure environment. Complete Controller's team of  US based accounting professionals are certified QuickBooksTMProAdvisor's providing bookkeeping and controller services including training, full or partial-service bookkeeping, cash-flow management, budgeting and forecasting, vendor and receivables management, process and controls advisement, and customized reporting. Offering flat rate pricing, Complete Controller is the most cost effective expert accounting solution for business, family office, trusts, and households of any size or complexity.